Major Breakouts and Multi-Year Moves in Gold and Stocks appears to be in the midst of a historic breakout.
I've written extensively about Gold's super bullish cup and handle pattern, which has a measured upside target of $3,000 and a log target of around $4,000.
To understand the significance, one must study similar historical breakouts in gold and the stock market.
The stock market has had three historic breakouts in the past 80 years.
In late 1949, the stock market began a move in which it would break out of a cup and handle pattern and rise 278% over the next eight years.
In 1966, the breakup of a 16-year-old base. From 1982 to the peak of 1987, they climbed 233%.
More recently, in 2013, the stock market broke from a 13-year base. Because it was quite stretched in terms of valuation and past earnings, it only gained 100% over the next five years.
Gold's story isn't quite as clean, but we can see the importance of multi-year breakouts.
When President Nixon ended the Gold Standard in 1971, gold quickly exploded on a 25-year basis. The price of gold was then artificially low, and that is why it exploded by more than 450% in just over three years and, from this peak, quadrupled over the next six years.
Gold's next major multi-year breakout occurred in 2005. Gold gained almost 150% in less than three years and 360% in just over six years.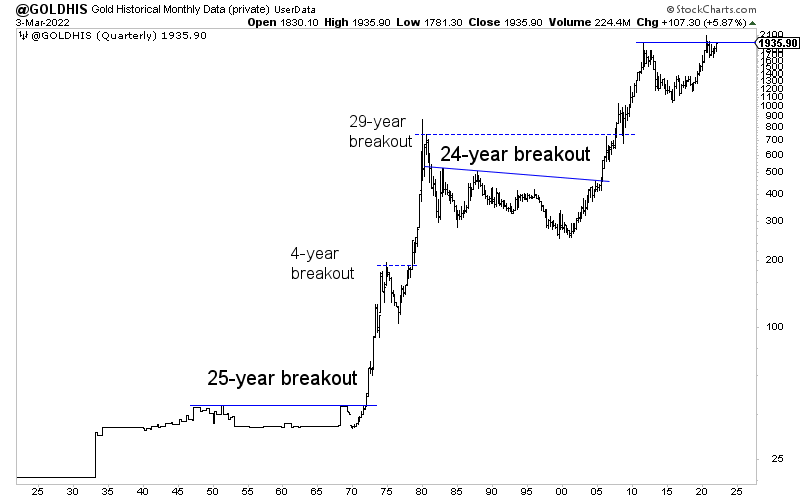 These decades-long historic breakout movements lasted only a year or two.
They lasted eight, five and five years on the stock market. The two major breakouts lasted three and six years before a major correction in gold.
Gold's aforementioned cup and handle breakout targets could be achieved in two to three years, but the history of these major breakout moves indicate that this move will expand both in terms of price and time.
Imagine when a base of over 40 years comes off at $50.