the market value of stocks falls by $6.2 billion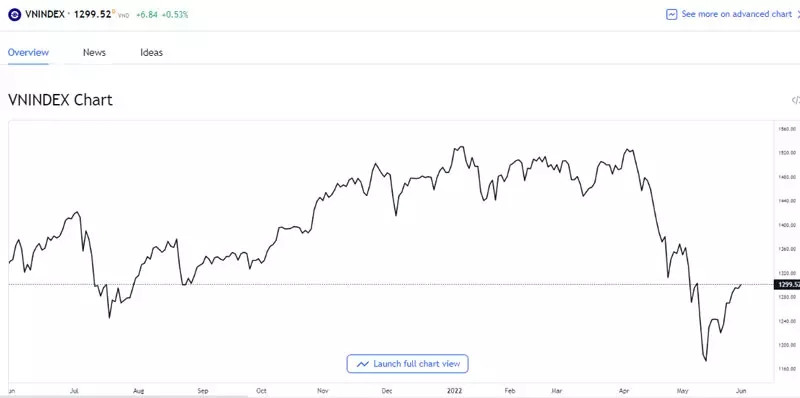 The HCM City Stock Exchange (HOSE) released a stock trading report in May that showed notable results.
At the close of the last trading session in May, the VN index reached 1,292.68 points, down 5.42% from April and 13.72% from the end of 2021.
The VNAllshare was 1,312.15 points, down 6.64% from April and 15.96% from the end of 2021. Meanwhile, the VN-30 was at 1,332.59 points, down 5.98% and 13.23%, compared to April and the end of 2021 respectively.
Regarding liquidity, the value of trades in May was 14.951 billion VND per trading session, and the trading volume was 540.22 million shares, representing a decline of 32.4%. in value and 20.98% in volume of transactions compared to April.
The total value and volume of shares during the month were VND299.020 billion and 10.8 billion shares, down 32.4% in value and 20.98% in volume from the previous month. .
Thus, the market value in May fell by VND 143 trillion, or $6.2 billion, from April.
Along with the drop in the main index, most industry indexes also fell. The VNMAT (materials) index fell by 16.53%, the VNFIN (financials) by 9.68% and the VNHEAL (healthcare) by 6.42%. At the same time, indices for some industries saw growth, including VNENE (energy) up 1.06%, VNIT (information technology) up 3.22% and VNUTI (utilities) up 4.41%.
In May 2022, the total trading volume of CW (Covered Warrants) in May reached 542.08 million CW and the trading value was VND 347.61 billion. The average CW trade volume was 27.1 million CW and the average trade value was 17.38 billion, a decrease of 12.9% in trade volume and 46.5% in value compared to to April.
The total trade value of foreign investors was VND 53.764 billion, which accounted for 8.99% of the value of the entire market. They bought more than they sold in May with a net purchase of VND 889.79 million.
Regarding the size of the HOSE market, at the end of May there were 522 listed securities, including 404 stocks, two closed-end fund certificates, nine ETF certificates, 102 CWs and five bonds.
The total volume of listed shares was 129.28 billion. The quoted capitalization value was 5.12 quadrillion, down 5.46% from the previous month, or 61% of 2021 GDP.
By May, HOSE had 32 new CWs listed and traded.
The stock exchange successfully organized a call for tenders on batches of Chau Duc Construction et Urbanisme shares held by the State Investment Company (SCIC). The total volume sold was 1,152,000 shares, worth 32,762,000,000 VND.
At the end of May, 44 companies listed on HOSE had a capitalization value of more than 1 billion dollars and 3 companies had a capitalization of more than 10 billion dollars, namely Vietcombank, Vinhomes JSC (VHM) and Vingroup (VIC).
According to experts, liquidity is decreasing lately as cash flow is moving to other investment channels. Unused business money has been withdrawn and returned to production and business as the economy recovers.
Deposits in commercial banks began to rise as interest rates rose. Meanwhile, the flow of speculative capital into the market is becoming cautious following a series of policies and actions by state management agencies aimed at making financial and real estate markets more stable and transparent.
Market liquidity has seen improvements in recent trading sessions with liquidity at VND 18-19 trillion instead of VND 15 trillion as seen in previous weeks.
Analysts said liquidity could reach VND20-22 trillion, but don't expect this figure to return to the VND30 trillion threshold, as seen during the boom period in late 2021 and early 2022.
With the current liquidity, analysts believe that the market has not yet bottomed out. The valuation of Vietnamese stocks is currently quite low, around 11-12x and it is considered attractive.
According to VinaCapital, the stock market is potential in the short and long term.
FPT said that in the first half of May, the VN index saw the biggest drop in Southeast Asia, with the rate or yield down 21.8% (other markets saw a decline). decrease of less than 8%). The P/E valuation fell below the 10-year valuation (15.0x).
According to Dragon Capital, the Vietnamese economy is stable with growth potential and a low market valuation. In general, the major corrections of the last 10 years are followed by strong recoveries and the reaching of new highs.
However, retail and institutional investors remain cautious. Vietnam Enterprise Investments Limited (VEIL) managed by Dragon Capital reported the high proportion of cash, at 5.77% on May 5, just below the 6.38% seen in May 2020, when the Covid-19 pandemic broke out. .
M.Ha